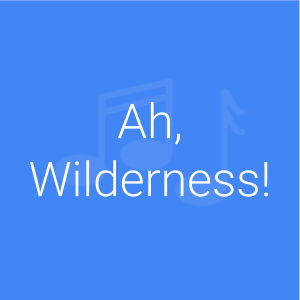 Start: BELLE You...
Act Three, Scene One
---
---
Basics
Age Ranges
Early Teen
Late Teen
Young Adult
Time/Place
1903, Connecticut, the back room of a dive bar
Act/Scene
Act Three, Scene One
Scene Context
Richard Miller is in love with his neighbor, Muriel McComber. Although they are crazy about each
Scene Text
In many cases, we only include a scene's starting and ending lines. Please refer to the script to view the full scene text.
Start: BELLE You shouldn't be so generous, dearie. Gets him in bad habits. A dime would have been plenty. RICHARD. Ah, that's all right. I'm no tightwad. BELLE. That's the talk I like to hear.
Ending: BELLE. What's the matter, Honey Boy? Haven't you ever kissed like that before? RICHARD. Sure. Lots of times.
O'Neill, Eugene, Ah, Wilderness!, 1933, http://gutenberg.net.au/ebooks13/1302951.txt
All scenes are property and copyright of their owners. Scenes are presented on StageAgent for educational purposes only.