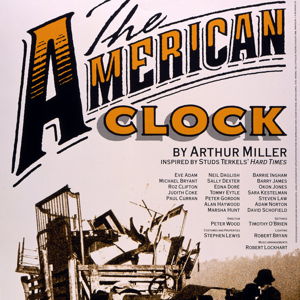 Start: Lee: There...
Act 1
---
---
Basics
Time/Place
America, 1930s
Scene Context
At the beginning of the play, Lee Baum and Arthur Robertson both appear independently. They are
Scene Text
In many cases, we only include a scene's starting and ending lines. Please refer to the script to view the full scene text.
Start: Lee: There have been only two American disasters that were truly national. Not the first or second World Wars, Vietnam, or even the Revolution. Only the Civil War and the Great Depression touched nearly everyone wherever they lived and whatever their social class.
[... … ]
End: Lee: For them the clock would never strike midnight, the dance and the music would never stop…
Arthur Miller. The American Clock. Methuen London Ltd., 1983. pp.1-2.
All scenes are property and copyright of their owners. Scenes are presented on StageAgent for educational purposes only.