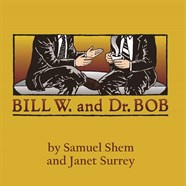 ---
---
Overview
---
Synopsis
Based on the lives of two real people, Bill W. and Dr. Bob tells the story of the two men who founded Alcoholics Anonymous. When the stock market crashes in 1929, Bill W. becomes a hopeless drunk, and his wife, Lois, is unable to force him to keep his promise to stop. Meanwhile, Dr. Bob Smith, a surgeon, drinks in secret. He himself is an agnostic, but his wife, Anne, joins the Oxford Group, a real-life group of Christians. Bill W. and Dr. Bob meet accidentally, and a series of completely chance incidents eventually lead to the creation of AA.
---
---
Show Information
Genres
Drama, Historical/Biographical
Time & Place
1950s, 1940s / wwii, 1930s, several towns in the united states, inside hospitals, homes, hotels, and bars, etc.
Casting Notes

Includes adult, mature adult characters
---
---
Half-Price Ticket Hot Sellers