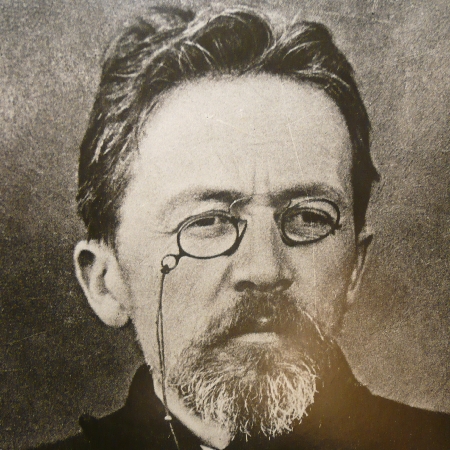 Anton Chekhov
Playwright, Author
---
---
Biography
---
Anton Pavlovich Chekhov (/ˈtʃɛkɔːf, -ɒf/;[1] Russian: Анто́н Па́влович Че́хов, pronounced [ɐnˈton ˈpavləvʲɪt͡ɕ ˈt͡ɕexəf]; 29 January 1860[2] – 15 July 1904) was a Russian physician, dramaturge and author who is considered to be among the greatest writers of short stories in history. His career as a dramatist produced four classics and his best short stories are held in high esteem by writers and critics. Chekhov practised as a medical doctor throughout most of his literary career: "Medicine is my lawful wife", he once said, "and literature is my mistress." Along with Henrik Ibsen and August Strindberg, Chekhov is often referred to as one of the three seminal figures in the birth of early modernism in the theater.
Always modest, Chekhov could hardly have imagined the extent of his posthumous reputation. The ovations for the play, The Cherry Orchard, in the year of his death showed him how high he had risen in the affection of the Russian public—by then he was second in literary celebrity only to Tolstoy,[100] who outlived him by six years—but after his death, Chekhov's fame soon spread further afield. Constance Garnett's translations won him an English-language readership and the admiration of writers such as James Joyce, Virginia Woolf, and Katherine Mansfield. The issues surrounding the close similarities between Mansfield's 1910 story "The Child Who Was Tired" and Chekhov's "Sleepy" are summarised in William H. New's Reading Mansfield and Metaphors of Reform[101] The Russian critic D.S. Mirsky, who lived in England, explained Chekhov's popularity in that country by his "unusually complete rejection of what we may call the heroic values."[102] In Russia itself, Chekhov's drama fell out of fashion after the revolution but was later adapted to the Soviet agenda, with the character Lopakhin, for example, reinvented as a hero of the new order, taking an axe to the cherry orchard.
Read more about Anton Chekhov on Wikipedia.
---
Shows by Anton Chekhov
---
---
---
---
---
---
Overview
Genres
Drama, Comedy, Dark Comedy, Parody
---