StageAgent New Works Program
"StageAgent provides an inside look into plays and musicals from the artists' perspective."-Nemuna Ceesay, Actress
To learn more about the StageAgent New Works program, please fill out the form below. Once we receive your information, a StageAgent representative will be in touch with you to schedule a phone call.
Thank you!
Your message was successfully sent.
Benefits to Festivals and Authors
Gain exposure for your festival

See your festival featured on StageAgent's blog and e-newsletter.
Enjoy free advertising space on the show guides associated with your festival.
Receive discounted pricing if you choose to advertise elsewhere on StageAgent.

Improve audience engagement

During the run of your show, we 'unlock' your festival's show guides so your audience can read the content without needing to create a StageAgent account.
Providing access to a play's guide greatly enhances the theatre-watching experience and increases customer loyalty.
Audiences appreciate it when they receive access to guides and feel more 'part of the club'.

Provide a promotional boost for your authors

Guides for plays in your festival will be included in our shows database.
Biographies for authors in your festival will be included in our author's database.

Help theatre students and teachers

Authors participating in your festival can submit materials for StageAgent's monologue and scene libraries, which are used by thousands of theatre performers, students, and teachers.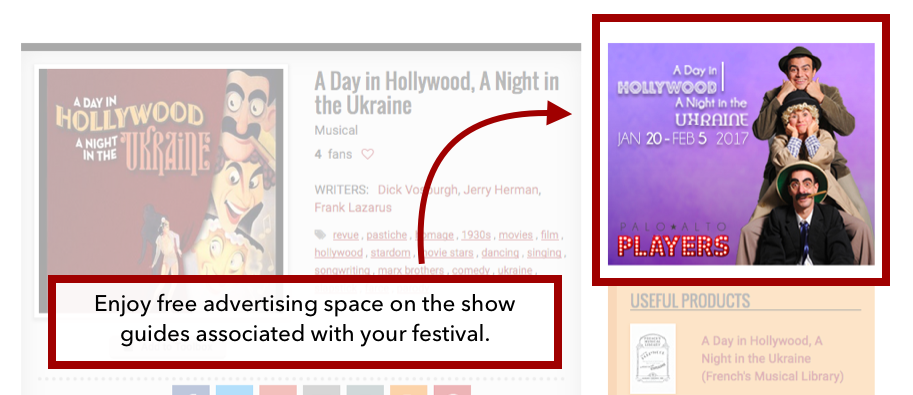 HOW TO PARTICIPATE
To participate in the StageAgent New Works Program, festival organizers are expected to:
Organize authors and/or staff dramaturgs to write guides for plays.

Playwrights and/or your staff dramaturgs are expected to write guides for plays. For each play guide, we will provide you with a form to fill out. After submission, we will edit your guides before publishing.
Authors must provide StageAgent with audition and study materials including monologues and scenes.

Once published on StageAgent, festivals are expected to actively promote play guides by:

Linking to them on your festival website
In emails to subscribers and promotional newsletters
Via your social media accounts
QR codes in your printed program
On authors personal websites

Festivals also need to include a link on your website identifying StageAgent one of your partners.