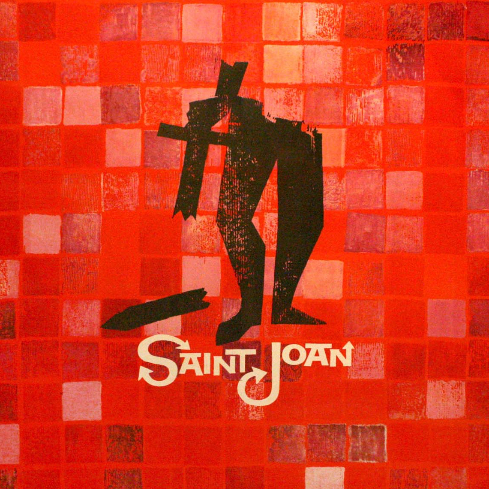 DUNOIS. Come, Joa...
Scene 5
---
---
Basics
Age Ranges
Early Teen
Late Teen
Young Adult
Adult
Time/Place
France, fifteenth century
Scene Context
Joan is praying after the French army's success in battle. The Dauphin, Charles, has subsequently
Scene Text
In many cases, we only include a scene's starting and ending lines. Please refer to the script to view the full scene text.
DUNOIS. Come, Joan! you have had enough praying. After that fit of crying you will catch a chill if you stay here any longer. It is all over: the cathedral is empty; and the streets are full. They are calling for The Maid. We have told them you are staying here alone to pray; but they want to see you again.
JOAN. No: let the king have all the glory.
DUNOIS. He only spoils the show, poor devil. No, Joan: you have crowned him; and you must go through with it. Joan shakes her head reluctantly.
DUNOIS [raising her] Come come! it will be over in a couple of hours. It's better than the bridge at Orleans: eh?
JOAN. Oh, dear Dunois, how I wish it were the bridge at Orleans again! We lived at that bridge.
DUNOIS. Yes, faith, and died too: some of us.
JOAN. Isnt it strange, Jack? I am such a coward: I am frightened beyond words before a battle; but it is so dull afterwards when there is no danger: oh, so dull! dull! dull!
DUNOIS. You must learn to be abstemious in war, just as you are in your food and drink, my little saint.
JOAN. Dear Jack: I think you like me as a soldier likes his comrade.
DUNOIS. You need it, poor innocent child of God. You have not many friends at court.
JOAN. Why do all these courtiers and knights and churchmen hate me? What have I done to them? I have asked nothing for myself except that my village shall not be taxed; for we cannot afford war taxes. I have brought them luck and victory: I have set them right when they were doing all sorts of stupid things: I have crowned Charles and made him a real king; and all the honors he is handing out have gone to them. Then why do they not love me?
DUNOIS [rallying her] Sim-ple-ton! Do you expect stupid people to love you for shewing them up? Do blundering old military dug-outs love the successful young captains who supersede them? Do ambitious politicians love the climbers who take the front seats from them? Do archbishops enjoy being played off their own altars, even by saints? Why, I should be jealous of you myself if I were ambitious enough.
JOAN. You are the pick of the basket here, Jack: the only friend I have among all these nobles. I'll wager your mother was from the country. I will go back to the farm when I have taken Paris.
DUNOIS. I am not so sure that they will let you take Paris.
JOAN [startled] What!
DUNOIS. I should have taken it myself before this if they had all been sound about it. Some of them would rather Paris took you, I think. So take care.
JOAN. Jack: the world is too wicked for me. If the goddams and the Burgundians do not make an end of me, the French will. Only for my voices I should lose all heart. That is why I had to steal away to pray here alone after the coronation. I'll tell you something, Jack. It is in the bells I hear my voices. Not today, when they all rang: that was nothing but jangling. But here in this corner, where the bells come down from heaven, and the echoes linger, or in the fields, where they come from a distance through the quiet of the countryside, my voices are in them. [The cathedral clock chimes the quarter] Hark! [She becomes rapt] Do you hear? 'Dear-child-of-God': just what you said. At the half-hour they will say 'Be-brave-go-on'. At the three-quarters they will say 'I-am-thy-Help'. But it is at the hour, when the great bell goes after 'God-will-save-France': it is then that St Margaret and St Catherine and sometimes even the blessed Michael will say things that I cannot tell beforehand. Then, oh then--
DUNOIS [interrupting her kindly but, not sympathetically] Then, Joan, we shall hear whatever we fancy in the booming of the bell. You make me uneasy when you talk about your voices: I should think you were a bit cracked if I hadnt noticed that you give me very sensible reasons for what you do, though I hear you telling others you are only obeying Madame Saint Catherine.
JOAN [crossly] Well, I have to find reasons for you, because you do not believe in my voices. But the voices come first; and I find the reasons after: whatever you may choose to believe.
DUNOIS. Are you angry, Joan?
JOAN. Yes. [Smiling] No: not with you. I wish you were one of the village babies.
DUNOIS. Why?
JOAN. I could nurse you for awhile.
DUNOIS. You are a bit of a woman after all.
JOAN. No: not a bit: I am a soldier and nothing else. Soldiers always nurse children when they get a chance.
DUNOIS. That is true.
Useful Links
---
Sorry! We don't currently have any useful links for this guide.
All scenes are property and copyright of their owners. Scenes are presented on StageAgent for educational purposes only.