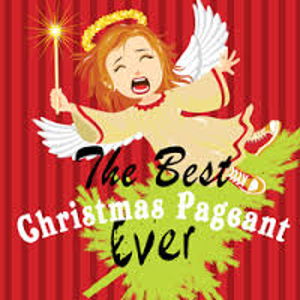 The Best Christmas Pageant Ever
Play
---
---
Plot
---
Act One
As the curtain rises, Beth Bradley tells the audience about the six disadvantaged, delinquent Herdman siblings -- "the worst kids in the whole history of the world." Ralph, Imogene, Leroy, Claude, Ollie, and Gladys Herdman enter, and pose in tough, menacing fashion. Beth explains why her brother Charlie likes church -- "No Herdmans." The Sunday school teacher didn't like his answer, but it was the most truthful.
The Bradley family is returning home from church, Mr. Bradley scolds Charlie for the "un-Christian sentiment" expressed about the Herdmans, and there is more discussion of that family, until the subject changes to the upcoming annual Christmas pageant. Charlie does not want to be in it, and Mr. Bradley doesn't want to go see it, but Mrs. Bradley is adamant that they will all participate. Mr. Bradley tells the news that Mrs. Armstrong, a strong-minded community leader type who usually directs the pageant, has been hospitalized with a broken leg, and the Bradley family wonders who will take over all of Mrs. Armstrong's various duties.
Mrs. Slocum, Mrs. Clark, Mrs. Clausing, and Mrs. McCarthy are all on the phone with each other. They talk about Mrs. Armstrong's broken leg, and divide up her responsibilities, except the biggest responsibility, the pageant, which they are all too busy to handle. But what about Grace Bradley…? Mrs. Bradley gets off the phone with Mrs. McCarthy, stunned to realize that she has just been roped into directing the pageant. Mr. Bradley asks if that means he has to go.
Beth tells explains to the audience that the Christmas pageant is always the same each year. Mrs. Bradley listens on the phone as Mrs. Armstrong, immobilized in her hospital bed, lectures the new director about the details, pitfalls, and exact child-managing methods she should use for the pageant. The Bradley family waits in frustration to eat dinner while Mrs. Armstrong keeps Mrs. Bradley on the phone, until finally Mr. Bradley rings the doorbell, pretending
Half-Price Ticket Hot Sellers
Dec 10
Detroit, MI
Full Price: $15 - $25
Our Price: $10 - $15