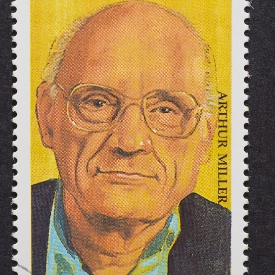 Arthur Miller
Playwright
---
---
Biography
---
Arthur Asher Miller (October 17, 1915 – February 10, 2005)[1][2] was an American playwright, essayist, and prominent figure in twentieth-century American theatre. Among his plays are All My Sons (1947), Death of a Salesman (1949), The Crucible (1953) and A View from the Bridge (1955, revised 1956). He also wrote the screenplay for the film The Misfits (1961).
Arthur Miller's career as a writer spanned over seven decades, and at the time of his death, Miller was considered to be one of the greatest dramatists of the twentieth century. After his death, many respected actors, directors, and producers paid tribute to Miller, some calling him the last great practitioner of the American stage, and Broadway theatres darkened their lights in a show of respect. Miller's alma mater, the University of Michigan, opened the Arthur Miller Theatre in March 2007. As per his express wish, it is the only theatre in the world that bears Miller's name. Two months after Miller dies Peter O'Toole called him a "bore". Roger Kimball considered Miller's artistic accomplishments meager.
Read more about Arthur Miller on Wikipedia.
---
Shows by Arthur Miller
---
---
---
---
---
---
---
---
Overview
Genres
Drama, Historical/Biographical
---