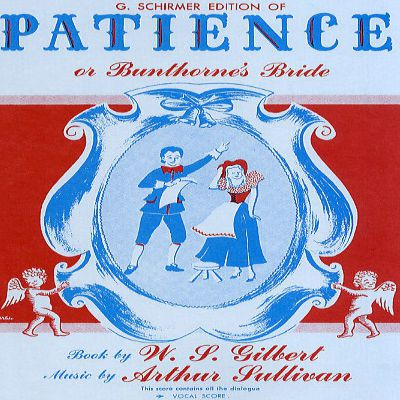 Patience, or Bunthorne's Bride
Operetta
Writers:
operetta
gilbert and sullivan
g&s
comic
comedy
british
british accent
rp
received pronunciation
satire
victorian
aesthetic movement
---
---
Overview
---
Synopsis
All of the maidens in the village are besotted with Reginald Bunthorne, a moody and handsome poet, but he has eyes only for the simple milkmaid, Patience. The problem? Bunthorne's artistic ways are all just an act to attract women to him--he doesn't even like poetry! Besides, Patience is in love with her childhood sweetheart, who happens to be a real poet named Archibald Grosvenor, but feels she cannot marry him because he is just too perfect. In the meantime, the serious (and decidedly non-poetic) platoon of Heavy Dragoon Guards that were meant to marry the village maidens find themselves dismayed and perplexed by their sudden loss of prospects. One of Gilbert & Sullivan's most successful shows, Patience is a rollicking satire that pits the straight-laced ideals of the Victorian era against the passions and indulgences of the 1870s Aesthetic Movement, ridiculing each side of the spectrum.
---
---
Show Information
Settings
Multiple Settings
Ideal For
college, professional, small budget
Casting Notes:
Mostly male cast
Includes young adult, adult, mature adult, late teen characters
Tags:
operetta
gilbert and sullivan
g&s
comic
comedy
british
british accent
rp
received pronunciation
satire
victorian
aesthetic movement
---
---
Half-Price Ticket Hot Sellers