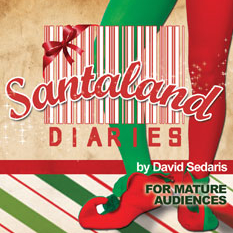 ---
---
Basics
Time & Place
Macy's Department Store, New York City, 1980s, 1990s,
---
Monologue Context
Our nameless hero has arrived in New York City, an unemployed would-be actor, now
Monologue Text
I am applying for a job as an elf. Even worse than applying is the very real possibility that I will not be hired, that I couldn't even find work as an elf. That's when you know you're a failure.
I'm down to the wire here, twenty dollars away from walking dogs. After begging my mother for a loan I applied at a place that covers styrofoam creatures in moss. Left to its own devices, nature can cover things in moss. For free. It's not that difficult a task but still I didn't get the job. A skill. A person needs a skill. Why hadn't I ever realized that before?
In order to become an elf, I filled out ten pages' worth of forms, took a multiple choice personality test, underwent two interviews, and submitted urine for a drug test. The first interview was general, designed to eliminate the obvious sociopaths. During the second interview we were asked why we wanted to be elves, which, when you think about it, is a fairly tough question. I listened as the woman ahead of me, a former waitress, answered the question, saying, "I really want to be an elf? Because I think it's about acting? And before this I worked in a restaurant? Which was run by this really wonderful woman who had a dream to open a restaurant? And it made me realize that it really really… important to have a… dream?"
Everything this woman said, every phrase and sentence, was punctuated with a question mark and the interviewer never raised an eyebrow.
When it was my turn I explained that I wanted to be an elf because it was one of the most frightening career opportunities I had ever come across. The interviewer raised her face from my application and said, "And…?"
Mantello, Joe, and Sedaris, David. The Santaland Diaries. Dramatists Play Service, New York, NY. 1998. pp. 10-11.
---
---
Useful Links
---
Sorry! We don't currently have any useful links for this guide.
All monologues are property and copyright of their owners. Monologues are presented on StageAgent for educational purposes only.