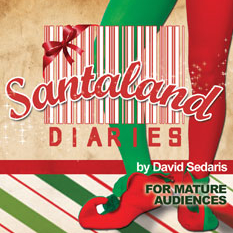 ---
---
Basics
Time & Place
Macy's Department Store, New York City, 1980s, 1990s
---
Monologue Context
Newly christened Crumpet, our hero has just begun his job training as an elf at
Monologue Text
I have spent the last several days sitting in a crowded, windowless, Macy's classroom undergoing the first phases of Elf Training.
This morning we were lectured by the Santaland managers and presented with a Xeroxed booklet of regulations titled, "The Elfin Guide." Most of the managers are former elves who have worked their way up the candy-cane ladder but retain vivid memories of their days in uniform. Several of the bosses led us in motivational cheers, a concept which stuns me to the core. One guy rolled up his sleeves and yelled, GIVE ME AN S! "S", WHERE'S MY A? "A!," HOW 'BOUT A BIG OL' N? "N," DID SOMEONE SAY T? "T," LET'S GET A RECALL ON THAT A! "A!" What's that spell? "SANTA!" WHO THE MAN?! "SANTA." COME ON ELVES, FEEL GOOD ABOUT YOURSELVES, LET'S RAISE THE ROOF!!! SANTA, SANTA SANTA! It was his goal to send chills down our spine and personally speaking, I think he did an excellent job. I was mortified.
They closed the meeting saying, "I want you to remember that even if you are assigned Photo Elf on a busy weekend, YOU ARE NOT SANTA'S SLAVE."
Mantello, Joe, and Sedaris, David. The Santaland Diaries. Dramatists Play Service, New York, NY. 1998. p. 12.
---
---
Useful Links
---
Sorry! We don't currently have any useful links for this guide.
All monologues are property and copyright of their owners. Monologues are presented on StageAgent for educational purposes only.
Half-Price Ticket Hot Sellers
May 6
Lexington, MA
Full Price: $29 - $59
Our Price: $10 - $59