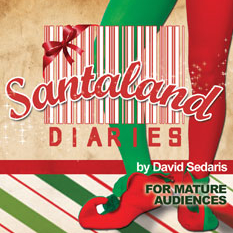 ---
---
Basics
Scene
Act One, Scene One,
Time & Place
Macy's Department Store, New York City, 1980s, 1990s
---
Monologue Context
Crumpet the elf, an employee at Macy's Santaland, has survived until the final test,
Monologue Text
This was my last day of work. We had been told that Christmas Eve would be slow but this was the busiest I'd ever seen it, the chaos a week's worth of training had prepared us for -- twenty-three thousand desperate people behaving as though they were trying to board the last train out of town. I started in the Magic Tree where I witnessed a fist fight between two mothers. I watched as a woman experienced a severe, crowd-related anxiety attack. Falling to the filthy floor she groped for breath, her arms moving as if she was fighting off bats. Parents in long lines tossed disposable diapers into the Candy Cane Forest and offered cash bribes to cut in line. A Long Island father called Santa a faggot when he refused to recite "The Night Before Christmas" to his child and, through it all, the noise was deafening with children crying and parents shouting, "What more do you want me to do? We're here, all right? Now shut up." This was the rowdiest crowd I'd ever seen and we were short on elves, many of whom waited until the last minute to show their true colors: calling in sick or simply not showing up. Many elves complained but the rest of us found ourselves in the moment we'd been waiting for. It was us against them, time to be a trouper and I surrendered completely.
Mantello, Joe, and Sedaris, David. The Santaland Diaries. Dramatists Play Service, New York, NY. 1998. p. 32.
---
---
Useful Links
---
Sorry! We don't currently have any useful links for this guide.
All monologues are property and copyright of their owners. Monologues are presented on StageAgent for educational purposes only.