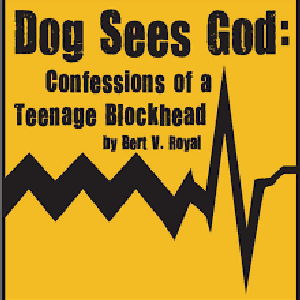 Start: My dog died. I don't know if you
See more monologues from Bert. V. Royal
---
---
Basics
---
Monologue Context
CB, a teenage boy, writes to his pen pal about the death of his childhood pet, a
Monologue Text
Start: My dog died. I don't know if you remember, but I had a beagle. He was a good dog.
[... ...]
End: They gave me his corpse in a cardboard box. When my dog died, that was when the raincloud came back and everything went to hell...
For full extended monologue, see:
Royal, Bert. V. Dog Sees God: Confessions of a Teenage Blockhead. Dramatists Play Service, New York, NY. 2006. pp. 7-8.
---
---
Useful Links
---
Sorry! We don't currently have any useful links for this guide.
All monologues are property and copyright of their owners. Monologues are presented on StageAgent for educational purposes only.
Half-Price Ticket Hot Sellers
Jun 28 - Jun 30
North Hollywood, CA
Full Price: $16
Our Price: $10