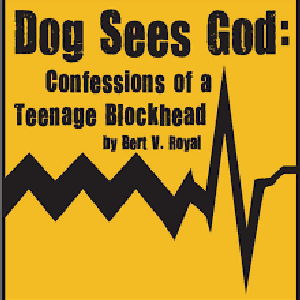 Start: Well, it's just that you haven't
See more monologues from Bert. V. Royal
---
---
Basics
Scene
Act One, Scene Seven
Time & Place
A high school, a music practice room, lunchtime,
---
Monologue Context
Beethoven, a high school student and accomplished piano player, has, for years, been
Monologue Text
Start: Well, it's just that you haven't spoken to me in years. Except to call me a "faggot" or to dislocate my shoulder and all of a sudden I get a stream-of-consciousness monologue about your dead dog while I'm trying to spend the only moments of my day that don't truly SUCK.
[... ...]
End: Please don't hit me. But I could give two shits about you or your vacant mind or your morbid curiosities or your dead fucking dog, so why don't you just leave?
For full extended monologue, see:
Royal, Bert V. Dog Sees God: Confessions of a Teenage Blockhead. Dramatists Play Service, New York, NY. 2006. p. 21.
---
---
Useful Links
---
Sorry! We don't currently have any useful links for this guide.
All monologues are property and copyright of their owners. Monologues are presented on StageAgent for educational purposes only.
Half-Price Ticket Hot Sellers