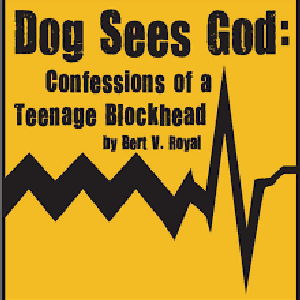 Start: I was pregnant. Don't w
See more monologues from Bert. V. Royal
---
---
Basics
Scene
Act One, Scene Twelve
Time & Place
A mental institution
---
Monologue Context
Van's Sister has been placed in a mental institution after setting fire to a
Monologue Text
Start: I was pregnant. (Beat.) Don't worry. It wasn't yours. I had just gotten an abortion the day before and the next day in Biology, we were ironically learning about reproduction.
[... ...]
End: I am officially sick, psychotic, unrepentant and unremorseful. I've been branded a sociopath and I have no choice but to believe it.
For full extended monologue, see:
Royal, Bert V. Dog Sees God: Confessions of a Teenage Blockhead. Dramatists Play Service, New York, NY. 2006. p. 35.
---
---
Useful Links
---
Sorry! We don't currently have any useful links for this guide.
All monologues are property and copyright of their owners. Monologues are presented on StageAgent for educational purposes only.
Half-Price Ticket Hot Sellers