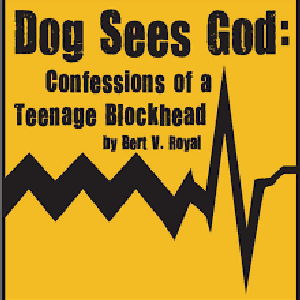 Start: DID HE SAY GOODBYE TO ME? I wish
See more monologues from Bert. V. Royal
---
---
Basics
Scene
Act One, Scene Eighteen
---
Monologue Context
CB is at a peer counseling session at school with his sister and classmates, to deal
Monologue Text
Start: DID HE SAY GOODBYE TO ME?! I wish he was still here so I could twist his arm behind his back, shove his face in a toilet and tell him that he sucks dick.
[... ...]
End: Marcy, Tricia -- here's to "maggot food"! And then we'll all come back here and and we'll talk about how we feel!
For full extended monologue, see:
Royal, Bert. V. _Dog Sees God: Confessions of a Teenage Blockhead. Dramatists Play Service, New York, NY. 2006. p. 45.
---
---
Useful Links
---
Sorry! We don't currently have any useful links for this guide.
All monologues are property and copyright of their owners. Monologues are presented on StageAgent for educational purposes only.
Half-Price Ticket Hot Sellers