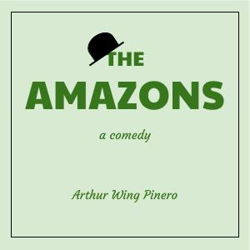 ---
---
Basics
Time & Place
A fine day in September, Overcote Park, England
---
Monologue Context
Galfred, Earl of Tweenwayes is not in his element. Tweenwayes is a proud, haughty,
Monologue Text
Tweenwayes: Ah, yes, we're rid of Litterly. (Pacing up and down angrily) We soon tired him out.
[De Grival: I am glad. Two are company, three is too much. Don' cher know!]
Tweenwayes: His society had already become intolerable to me. The boundless self-sufficiency of the man! Once, when he trod on my foot, I was within an ace of cursing him. I doubt his breeding too. The idea of his tracking a pretty face from town in this way! The circumstance of his turning out to be the lady's cousin doesn't excuse him; I believe he simply met her in a shop and followed her about like a snobby cad. It's an accursed impropriety. Heavens, is chivalry extinct?
Pinero, Arthur Wing, The Amazons, William Heinemann, 1895, pp. 59.
---
---
Useful Links
---
Sorry! We don't currently have any useful links for this guide.
All monologues are property and copyright of their owners. Monologues are presented on StageAgent for educational purposes only.