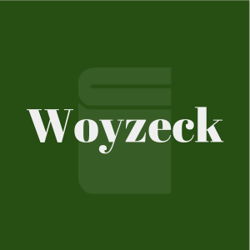 Start: Captain...
Scene Five
---
---
Basics
Time/Place
Germany, 1830s,
Scene Context
This famous scene from _Woyzeck _exemplifies the Captain's leisure (sitting in a
Scene Text
Start: Captain: Slowly, Woyzeck, take it slowly. One thing after another one. You make me feel giddy. - What am I supposed to do with the ten minutes you save rushing that way. What use are they to me? (Woyzeck starts shaving him.) Think about it, Woyzeck; you've got a good thirty years left. Thirty years. That makes three hundred and sixty months - and then there's days, hours, minutes! What're you going to do with such a monstrous amount of time? Eh?
[... … …]
End: Captain: Well, Woyzeck, you're a good fellow, a good fellow. But you think too much. You're wearing y'rself out, grinding away 't things in there. You always look so wrought! (Stands.) This discussion's upset me completely. Get along now. (Woyzeck removes the chair and his equipment.) And don't run! Slowly, Nice and slowly
Useful Links
---
Sorry! We don't currently have any useful links for this guide.
All scenes are property and copyright of their owners. Scenes are presented on StageAgent for educational purposes only.