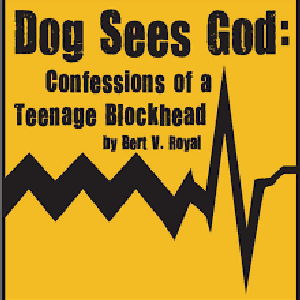 Start: Beetho...
Act One, Scene Eight
---
---
Basics
Time/Place
a high school, a music practice room, lunchtime,
Act/Scene
Act One, Scene Eight
Scene Context
CB, a teenager with status in his high school, is depressed about his dead dog. He
Scene Text
Start:
Beethoven: You're not supposed to be in here. I have permission to practice during lunch. But nobody else is supposed to be in here.
CB: You've gotten really good. I mean, you always were, but -- Who wrote that? Beethoven?
Beethoven: Chopin.
End:
Beethoven: He was sick, CB. He couldn't help it. You know they say a dog sees God in his master. A cat looks in the mirror.
CB: I hate cats.
Beethoven: Me too.
Royal, Bert V. Dog Sees God: Confessions of a Teenage Blockhead. Dramatists Play Service, New York, NY. 2006. pp. 20-24.
Useful Links
---
Sorry! We don't currently have any useful links for this guide.
All scenes are property and copyright of their owners. Scenes are presented on StageAgent for educational purposes only.