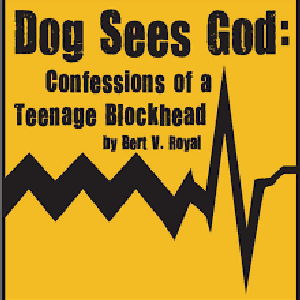 Start: Van's S...
Act One, Scene Twelve
---
---
Basics
Time/Place
A mental institution, daytime,
Act/Scene
Act One, Scene Twelve
Scene Context
CB, who is grieving for his dead dog and conflicted about his sexual identity, goes
Scene Text
Start:
Van's Sister: Well, it's about mutherf%*&cking time!
CB: Well, if a certain someone would stop getting thrown into solitary, then another certain someone could come visit more often.
Van's Sister: Sit down! Sit down!
CB: (reading the sign) "The Doctor Is In."
Van's Sister: Boy, is she ever.
End:
Van's Sister: I have faith in you. And next time when you come, if you could just maybe stick a book of matches up your ass, I'd be your best friend forever.
CB: You already are.
Van's Sister: Hey, Blockhead! You forgot your scarf!
Royal, Bert V. Dog Sees God: Confessions of a Teenage Blockhead. Dramatists Play Service, New York, NY. 2006. pp. 30-36.
Useful Links
---
Sorry! We don't currently have any useful links for this guide.
All scenes are property and copyright of their owners. Scenes are presented on StageAgent for educational purposes only.