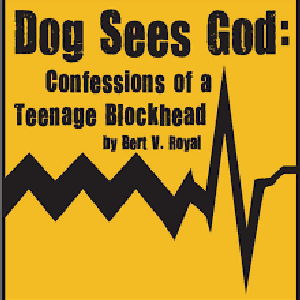 Start: Tricia...
Act One, Scene Six
---
---
Basics
Time/Place
A high school cafeteria, lunchtime
Act/Scene
Act One, Scene Six
Scene Context
Marcy and Tricia, two "mean girls" who secretly carry the ingredients to make White
Scene Text
Start:
Tricia: So he was all like, "Woh woh woh Woh woh woh. Woh woh woh wowoh woh." He is such a dick! So, I'm like, "Excuse me, Mr. Von Pfefferkorn, but just because I can't define metaphor doesn't mean I don't know what one is, you stupid buttwad!
Marcy: You called Mr. Von Pfefferkorn a buttwad?!
Tricia: No, of course not. I added that to the story for dramatic effect.
End:
Marcy: Duh! I looked it up on the Internet. Every time we do get drunk at school, you pick up a spork and say, "The spork is such a great invention. I wonder where it came from." So, I decided that I was going to be ready one day with the answer.
Tricia: How brilliant of you. I'm depressed.
Royal, Bert V. Dog Sees God: Confessions of a Teenage Blockhead. Dramatists Play Service, New York, NY. 2006. pp. 15-18.
Useful Links
---
Sorry! We don't currently have any useful links for this guide.
All scenes are property and copyright of their owners. Scenes are presented on StageAgent for educational purposes only.